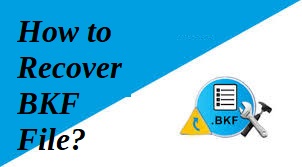 Are you looking for how to open BKF files in windows 10, 8.1, 8, or 7? Are you unable to locate the NTBackup tool to back up your data and are stuck? If you belong to this group of users, you have come to the appropriate post. This blog provides the simplest method for viewing and using problem-free backup BKF files.
Now more than ever, taking a backup of your system is a must that no user can ignore. The Windows backup may assist in restoring your computer to a previous right operating condition. As a result, people desire Windows 7 and other versions to view BKF files. The issue here may be because Microsoft no longer offers the NTBackup tool for Windows versions later 2003 and XP. Users are thus baffled as to how to open BKF files in windows 7 and above.
Let's familiarize ourselves with the NTBackup tool and BKF files before moving on to the way to view windows backup files in Windows 10.
What is Windows NT Backup Utility?
Microsoft included the NTBackup program as a built-in utility in older versions of Windows, including Windows NT 3.51, NT 4.0, 2000, XP, and 2003. It has the ability to save Windows backup files in BKF files. Users may then quickly access these data on their system as needed to repair the machine.
The newer versions, namely Windows 7, 8, 8.1, and 10, do not, however, have this program from Microsoft. The Backup and Restore tool, which performs the identical tasks but utilizes virtual hard disk files for data backup, has taken its place. Therefore of open BKF files in windows 7, 8, 8.1, or 10 cannot be done in a manner that creates problems for users.
What is BKF File Format?
Windows backups are stored as BKF files, which is the backup file format. These files can only be read by Windows backup programs and cannot be accessed in any other program. Additionally, the data on your PC may be restored with the help of these files.
Now that we know what a BKF file is and how to use the Backup application, we can learn how to open BKF files in windows 10 and earlier versions. The Windows Backup Utility, also known as Microsoft Backup Utility, was a component of Microsoft Windows NT and later versions of Windows XP and used to save data on tape drives or ZIP drives. BKF files are essentially connected to this programme.
The new Windows Backup Utility for Microsoft Windows Vista, Windows 7, and Windows 8 utilises the Virtual Hard Disk (VHD) file format to store backup data.
Note: If you want to know more about this professional solution and how to use this software then click on this link Learn How to Extract Data from BKF File by Using Professional Solutions and Know how to open bkf files in windows 10 Without NT Backup Utility with Complete Vesy Easiest Solution
Method 1: View BKF Files by Using the Manual Solutions
Without NTbackup, there is no other method to utilize or open BKF files in windows. Therefore, you must download and manually install the NTBackup tool in order to access BKF files in the most recent versions of Windows. It is a system program, as you are aware, and needs a few more files to function correctly. As a result, you must transfer the necessary executable and supporting files to the same folder on your PC as the NTBackup utility.
Download nt5backup.cab from the internet to get started. It is a free.rar file that may be downloaded. The three files listed below may be found when you unzip the file.
ntbackup.exe
ntmsapi.dll
vssapi.dll
Ntbackup.exe, ntmsapi.dll, and vssapi.dll should all be kept in the same directory on your system. In addition, you may use the NTBackup utility to transfer the DLL files from any earlier Windows installation or system. The program may be started with only the.exe file, but it needs the additional files to work properly.
How to Use the Manual Solution by Using NT Backup Utility?
Use the NTBackup tool to access and open BKF files in windows by following the instructions listed below. Only after downloading and extracting the nt5backup.cab file onto your computer can you begin these procedures.
Start by double-clicking on the ntbackup.exe file at the stored location.
The message "Removable Storage not Running" will appear in a pop-up window. Click on OK to begin.
Click on the Browse button to add the BKF file from the system.
Select the checkbox labelled Restore files and Settings, and then click Next.
It will launch the Backup and Restore Wizard. Then, click on Next to continue.
Click "Add" and then "Browse" to find the BKF file you just created.
On the left side of the tab, you can see all of the drives and files.
BKF files may be seen and extracted in the right panel. Nonetheless, it proves to be tough to find a certain file.
After completing the aforementioned procedures, Windows 10, 8.1, 8, and 7 can all open BKF files. It is a challenging procedure, nevertheless, and cannot be used without the direction of detailed instructions.
It is usually advised not to use a specific tool on an OS for which it was not created. These external utilities may cause a number of problems with the operating system. The aforementioned approach might also fall victim to the following flaws and is not always successful.
Disadvantages of Manual Solutions
The information on the cassette serving as a backup is inaccessible. The backup should be on the system alone for it to operate successfully.
This technique demands technical skill, which means that non-technical people cannot implement it.
If the backup files (.BKF) are damaged, the process will fail. Therefore, the program cannot undertake open BKF files in windows if they are damaged.
Professional Solutions of Open BKF Files in Windows 10, 11
If the BKF files are damaged, the ntbackup.exe program is useless. If you need to open BKF files in windows but the file is corrupt, you'll need to find another solution. The best program to use to access and read BKF Windows files without spending a dime is the 4n6 BKF Recovery Tool. It works flawlessly with all BKF file versions. Further, the program can read and repair damaged BKF files created by Windows NTBackup and Symantec Backup Exec.
Guidance on How to Use BKF Viewer Software
Firstly, Download the BKF Viewer software and then install it
After that, click on the open button, and then upload the .bkf files with the help of choose folder or choose file option
Thereafter, click on the Action button and then select the Extract option
Choose the preferred location path and then finally hit the Save button
Conclusion
Since NTBackup is no longer supported, BKF files created by older versions of Windows Backup cannot be viewed in newer ones. Follow the steps outlined in the blog post to create a backup and open BKF files in windows 10, 8.1, 8, or 7. It's a time-consuming chore that needs expert help if you value your data's safety. There's more bad news: it can't read corrupt or damaged BKF files, either. In order to save time and simply open healthy and damaged BKF files on all Windows versions, the free BKF Viewer Tool is strongly advised.
Read Also these articles: